Culebra Fly Fishing and Light Tackle
Since 1991
with Chris Goldmark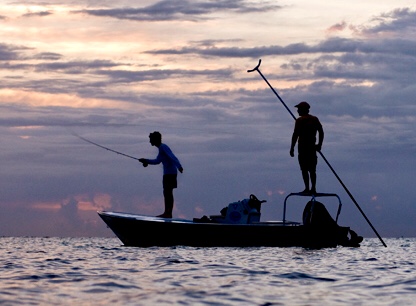 Biggest Bonefish in the Caribbean with great seasonal shots at Permit and Tarpon.
Beginners Welcome!
In this crazy world nobody could possibly predict what will be going on next year. So why not take a stab at it...I am booking trips with no financial commitment on the part of my anglers starting in December f this year 2020. If you can get to CUlebra, abide by whatever guidelines Culebra has set forth for tourism, I will take you fishing. I have several reservations for January but everything else is wide open. Stay healthy, stay smart and stay in touch as this all develops...
OUR POLICY: No credit cards or checks...Cash Only! No deposit necessary. I just need your Cell number and where you will be staying on Culebra to confirm your reservation. NO discounts for Guides, Writers or Internet wonders. Practice your casting and book ahead.....I look forward to my regulars returning next season and meeting new friends with whom I can share some of the great fishing here in Culebra. Wether its on the flats with a fly rod or in the back water with light spinning tackle or out on the North Side jigging King Fish, Wahoo and Tuna we will cater and customize to your fishing needs and wants. All tackle provided and instruction in fly fishing our specialty. See you soon ! 609 827 4536 or goldfishpr@aol.com
All equipment and instruction will be provided if necessary. Total sight fishingwith a fly rod for the big 3. Or, for those who do not fly fish, light tackle for Tarpon, King mackerel, Snapper and Jacks.
Wade fishing or casting from my custom flats skiff over gin clear waters for some of the biggest Bone Fish found anywhere